Virginia Railway Express (VRE) Commuter Rail Lines
After years of planning, two commuter rail lines opened from Northern Virginia to Washington, D.C. in June 1992.
I will have a lot more information to come, but here's an introduction.
The Virginia Railway Express (VRE) is a transportation partnership of the Northern Virginia Transportation Commission (NVTC) and the Potomac and Rappahannock Transportation Commission (PRTC). VRE provides commuter rail service from the Northern Virginia suburbs to Alexandria, Crystal City and downtown Washington, D.C. The VRE Operations Board, consisting of seven commissioners - three each from NVTC and PRTC and the Director of the Virginia Department of Rail and Public Transportation (VDRPT), oversees all operating aspects of the Virginia Railway Express. Reporting to the Board is the VRE Operations Group, which handles the daily operations of the VRE.
The service on each line is generally five trains during rush hour in the rush hour direction, and two in the opposite direction. It would be advantageous to increase the service, but these trains operate on mainline railroads, the CSX Transportation Company for the Fredericksburg Line and the Norfolk-Southern Railroad for the Manassas Line. Both lines cross the Potomac River on the railroad bridge next to the 14th Street Bridge. Due to the constraints of operating large freight trains, Amtrak passenger trains, and VRE commuter trains, the present service is the limit for now. In spite of the light level of service, the ridership on each line is equal to a lane of Interstate highway each way.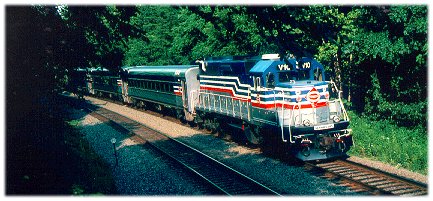 Photo by Alex Mayes, from the VRE website

Info here came from my knowledge plus the

VRE Website.

By Scott M. Kozel,

Roads to the Future