Anacostia Station

The

Anacostia Station opened in 1991, and served as the southern terminus of the Branch Avenue Route (Green Line trains) until January 13, 2001 with the extension to Branch Avenue Station. There are large park-n-ride lots at the station. The Anacostia Station has a unique-to-WMATA design with a shallow vault train hall, since it passes under a freight railroad line and Interstate Route I-295 with minimal clearance. Instead of the customary longitudinal single vault, there are about 25 small transverse vaults in the ceiling.

Another feature of Anacostia Station that is unique to the WMATA system, is the fact that the train hall is completely in subway, but its two mezzanines with fare gates (which are part of a station) are both aboveground at each end of the station, with escalators and elevators going down to the platform.

From

WMATA history link, "1991, December 28: Metrorail opens 2.88-mile Green Line segment serving Waterfront, Navy Yard and Anacostia stations".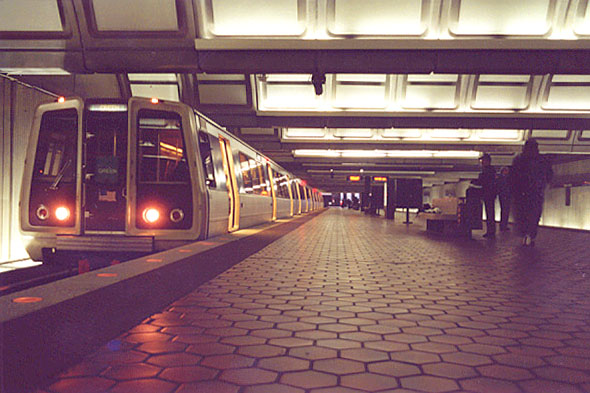 Above, train hall of Anacostia Station.
Above, train hall of Anacostia Station.

All photos © Copyright January 2001 by Scott Kozel. All rights reserved.

Lead article for

Metrorail Branch Avenue Route Completion.

By Scott M. Kozel,

Roads to the Future

(Created 1-23-01 9:45 PM; counter 43,348)