Baltimore Central Light Rail Line - Photos 7-10
Here are 4 photos of the Central Light Rail Line, taken on December 26, 1997.

Above, northbound, entering Howard Street. The light rail line runs on Howard Street through downtown Baltimore.

Above, southbound, stopped at Camden Yards Station. This is right next to Oriole Park at Camden Yards, where the baseball Baltimore Orioles play; and Ravens Stadium, where the NFL football Baltimore Ravens play. The highway on the left and the viaduct on the right are the two northern forks of I-395.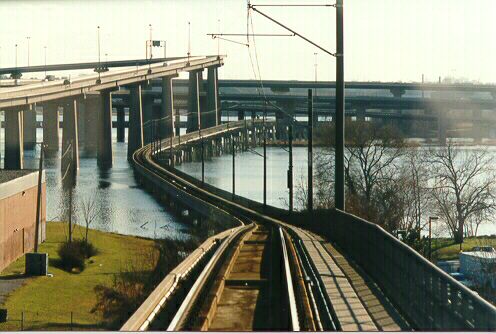 Above, southbound, approaching the harbor bridge. The highway bridges are the junction of I-95 and I-395. The bridges on the left are I-395 ramps, and the bridges in the distance are I-95. This unusual expressway interchange is entirely over water, the Middle Branch of the Patapsco River.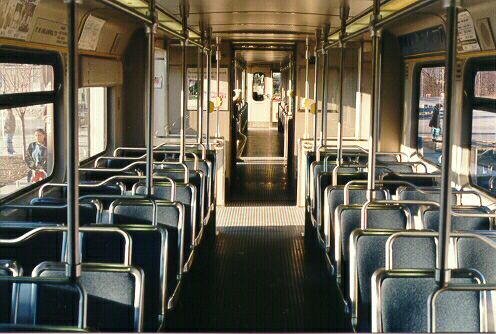 Above, back at the Cromwell Station in Glen Burnie. Interior of the two-car train.
All photos by Scott Kozel.
Copyright © 1997-2002 by Scott Kozel. All rights reserved. Reproduction, reuse, or distribution without permission is prohibited.
Lead page for Baltimore Central Light Rail Line
By Scott M. Kozel, Roads to the Future
(Created 1-24-1998, updated 12-7-2002)