Chesapeake Bay Bridge-Tunnel - August 1997 Photos
Here are 3 photos of the parallel trestle project under construction, taken in August 1997.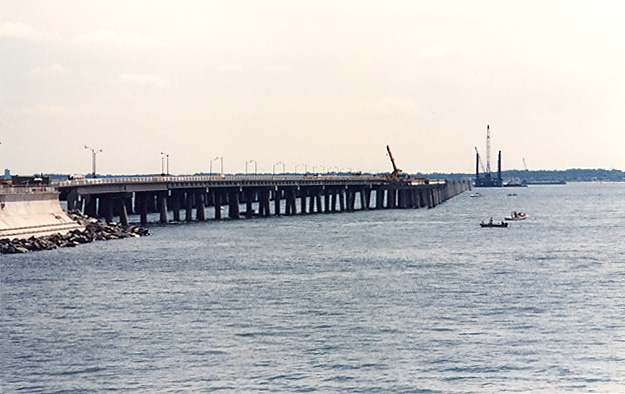 Above, parallel trestle under construction, with temporary bridge to south island. Picture taken from fishing pier at southern island, which is about 4 miles from the Virginia Beach shoreline (visible in distance). Large pile-driving derrick is visible in distance also.

Northbound, North Channel Bridges in distance. Parallel bridge from Fisherman Island to the northernmost man-made island is about 6 months from completion. Landfall is Fisherman Island.

New North Channel Bridge under construction.
All photos by Scott Kozel.
Copyright © 1997-2002 by Scott Kozel. All rights reserved. Reproduction, reuse, or distribution without permission is prohibited.
Lead page for Chesapeake Bay Bridge-Tunnel
By Scott M. Kozel, Roads to the Future
(Created 9-7-1997, last updated 10-14-2002)