I-10 Santa Monica Freeway
Most of the freeway is fairly level as it passes through residential and business areas. I saw the two long elevated sections around Fairfax Drive that had new decks; these were heavily damaged in the 1994 earthquake. I-10 south of downtown L.A. is on an elevated viaduct. There is a short 4-lane tunnel about 1/4-mile-long at the west end connecting to the Pacific Coast Highway. The highway is mostly 8 lanes.
Eastbound, near Santa Monica.
Eastbound, just south of the downtown. Snowcapped mountains are barely visible in the background.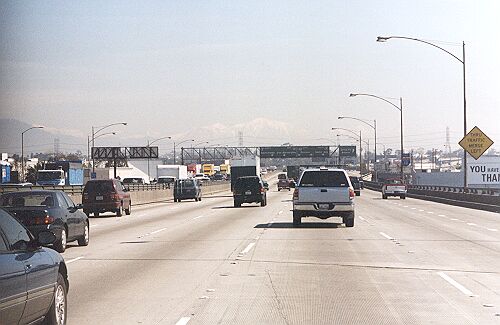 Eastbound, just east of the downtown. Snowcapped mountains are visible in the background.

All photos taken by Scott Kozel.

By Scott M. Kozel,

Roads to the Future, PENNWAYS

(Created 3-31-00)