I-95 James River Bridge Project Deck Replacement
These photos show construction operations on May 3, 2001 (same evening as on my "Zipper Machine" page). I took some of these photos with a 135mm (2.7x) telephoto lens, and some with a 50mm regular lens. The large brown building is the Main Street Station, a former passenger railroad station that is currently being restored so that Amtrak trains can begin stopping at the station again by 2003.
You may wonder how I got such a great view looking down on this operation. The James Monroe state office building is right next to I-95 in downtown Richmond, and I am standing at the edge of the plaza that surrounds the building. The building is 25 stories tall.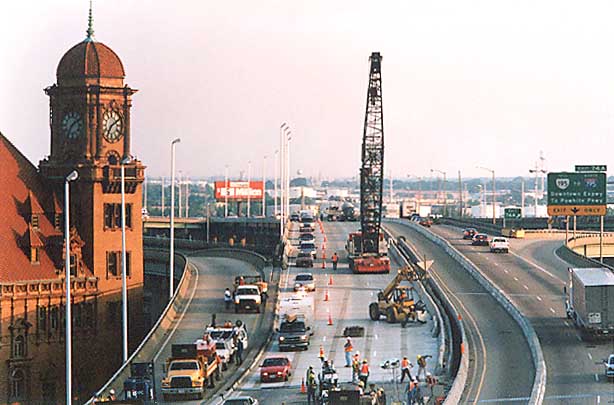 As you can see, each side of the bridge (actually two separate bridges that are about two feet apart) has been restricted to one lane each way as the temporary concrete median barrier is being shifted over. Construction workers, trucks, machinery and a large truck crane are already moving into place to begin work on another section of bridge deck replacement on the northbound side. The lighter-toned deck is the portion that has already been replaced.
Above, similar vantage point as previous photo, with regular lens. Zipper machine operation has been completed, and all traffic is now on the southbound bridge.

Deck cutting operations are now underway.

Two workers are utilizing cutting machines to cut the concrete deck so that the old sections can be lifted out. The cutting machines have a 4-foot diameter circular saw blade that is carborundum tipped.

Operations continue.

Night has fallen, and the deck panel replacement operation is underway. The floodlights in the work area are bright enough so that that section of the photo is overexposed.
Lead article for I-95 James River Bridge Reconstruction
Copyright © 2001-2003 by Scott Kozel. All rights reserved. Reproduction, reuse, or distribution without permission is prohibited.
By Scott M. Kozel,
Roads to the Future
(Created 6-23-2001, updated 5-1-2003)