Metrorail Mid-City Line Opening

The Mid-City Line (Inner Greenbelt Route, or E Route) was completed on

September 18, 1999: "Metro begins revenue service on the Mid City Green Line segment that includes Columbia Heights and Georgia Ave-Petworth stations in northwest Washington. Green Line now offers seamless travel between Greenbelt and Anacostia stations by way of downtown Washington, D.C."

The new segment added 2.9 miles of revenue miles to the Metrorail system, and 2 new stations, the Columbia Heights Station and the Georgia Avenue-Petworth Station, and it carries Green Line trains. The construction cost was $643 million for the entire segment. The entire segment and its stations are in subway. It connected the temporary ends of the Greenbelt Route (Green Line trains) at

U Street-Cardozo Station and Fort Totten Station. Also, the lightly-used lower platform of the Fort Totten Station came into full use now that the line was complete from that station southward. Service termination occurred for the Green Line Shortcut from the outer Green Line to the Red Line to downtown D.C., since Green Line trains now had their own direct route to the downtown, as was planned from the beginning of the 103-mile-long Authorized Regional System of 1968. See my Fort Totten Station Photos 1 thru 3 article for more details about this station.

With this new section, the Metrorail system grew to 96.6 revenue miles of line and 78 stations. The one remaining unopened Metro segment was the 6.5 miles of the Branch Avenue Route (F Route) between Anacostia Station and Branch Avenue Station, with its 5 stations, and that section opened on January 13, 2001. The Greenbelt Route and the Branch Avenue Route form one long rapid rail transit line serving the heart of D.C. with service and terminals in the southeastern Maryland suburbs and the northeastern Maryland suburbs, and the entire line carries Green Line trains.

From WMATA's website back then: "Columbia Heights and Georgia Avenue-Petworth Metro Stations Open This Saturday. You are invited to attend a very special event this Saturday, September 18. The Washington Metropolitan Area Transit Authority (WMATA), and the city of Washington, D.C., will celebrate the highly anticipated opening of two new Metro stations on the Green Line: Columbia Heights and Georgia Avenue-Petworth. 1:00 p.m. Opening Day Ceremony at Georgia Avenue-Petworth. Dignitaries, including District Mayor Anthony Williams, Congresswoman Eleanor Holmes Norton, U.S. Secretary of Transportation Rodney Slater, members of the Metro Board of Directors, Metro General Manager Richard A. White and a host of other officials and community leaders, will attend".

I was at the opening, and I visited both stations (and also rode out to Fort Totten Station and Greenbelt Station). I talked to a few of the local movers and shakers there about the redevelopment plans. The area around Georgia Ave-Petworth is fairly well developed, but the area around Columbia Heights was still recovering from blight, with some building construction underway and lots more planned.
Above,

Columbia Heights station on opening day. This station's train hall has a modified 6-coffer design with an elliptical cross section.
Above,

Georgia Avenue-Petworth station on opening day.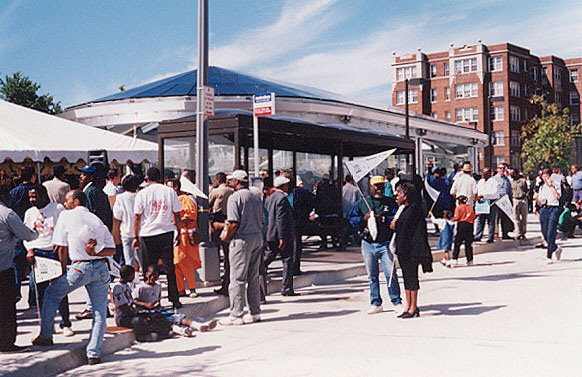 Above, opening day ceremonies at Georgia Avenue-Petworth Station.

John Cambron's Review of Central Mid-City Line Opening

The following information (blue text) comes from newsgroup posts by John R. Cambron of North Beach, Maryland. John is a transit and road buff and a knowledgeable regular poster in the Usenet newsgroups

news:misc.transport.urban-transit and news:misc.transport.road; these are professional newsgroups on the Internet that cover mass transit and roads/highways. John, like myself, has been following the Metro system's development and construction from the very beginning in 1969, and John knows this railroad very well.

Colombia Heights Station is a hybrid version of a cut and cover station. The train hall is not built like a conventional cut and cover subway station where a trench is dug and the station is built and the surface is restored. Slurry walls are placed along the sides of the length of the train hall to a depth below track bed to just below finished grade. The trench is excavated leaving a dome just above the where the roof of the train hall vault will be. Then a steel reinforced concrete arch is poured and the surface is restored. As surface is being restored the earth under the concrete arch is excavated, the station track bed poured, the station train hall vault is built using 144 precast concrete units, and the rest of the finishing work is done. This is the only station in the system built using this technique. The train hall is under 14th Street NW with the north / outbound end being about halfway between Irving Street and Harvard Street. The two surface entrances are at 14th Street and Irving Street.

Georgia Avenue-Petworth Station was built using conventional cut and cover subway station technique, it is however deeper than Colombia Heights Station. The train hall is under New Hampshire Avenue NW with the southwest / inbound end of the train hall under the intersection of Georgia Avenue and New Hampshire Avenue NW. The two surface entrances are on both sides of Georgia Avenue north of New Hampshire Avenue.

There are a number of curbside bus bays on the west side of Georgia Avenue that are out of the through lanes of traffic of Georgia Avenue. Most of the tunnels connecting these stations to the opened stations on either end of this segment are of shield bore type tunnel construction. The tunnels west of the Fort Totten Station to the fan shaft at the east side of Fort Totten Park are horseshoe type tunnels and were built as part of the contract for the Fort Totten Station. The remainder of the tunnels from Fort Totten Park to U Street-Cardozo Station are circular type tunnels. The tunnels from the west end of the U Street-Cardozo Station to about halfway around the 90 degree curve to 14th Street are cut and cover, they were built as part of the contract of the U Street-Cardozo Station. The curves in all of the tunnels from U Street to 14th Street and from 14th Street to Park Road have guardrails on their inside running rail. Because of the narrow width of the easement under Park Road between 14th Street and Sherman Avenue, these tunnels are stacked with the track 2 inbound tunnel being below the track 1 outbound tunnel. This is the only place in the system where this was done. Normal track centers in parallel shield bored, mechanical bored, and blast bored type tunnels are around 36'10" 11.22m.

(End of John Cambron's information)

Here's John's

WMATA Metro and Other Stuff web page.

Directory of my page with photos

Fort Totten Station Photos 1 thru 3

All photos © Copyright January 2001 by Scott Kozel. All rights reserved.

Official website

Washington Metropolitan Area Transit Authority (WMATA).
Here is the official WMATA System Map.
Here is the official WMATA History Link (Adobe .pdf format document).

By Scott M. Kozel,

Roads to the Future

(Created 1-14-01)