Fort Totten Station Photos 1 thru 3
Fort Totten Station is a four-way two-level transfer station that is the junction between the Glenmont Route (B Route) which carries Red Line Trains, and the Greenbelt Route (E Route) which carries Green Line Trains. The Glenmont Route opened on both sides of this station in 1978 (between Rhode Island Avenue Station and Silver Spring Station), using the upper platform, and the Greenbelt Route opened between the lower platform of this station and the terminal Greenbelt Station in 1993. The Green Line Shortcut operated from downtown D.C. to Greenbelt Station, using the Red Line and the Green Line, with trains using an interchange track near the Fort Totten Station which connects the two routes. The new segment opening in September 1999 added 2.9 miles of revenue miles to the Metrorail system, and 2 new stations, the Columbia Heights Station and the Georgia Avenue-Petworth Station, and it carries Green Line trains. It connected the temporary ends of the Greenbelt Route (Green Line trains) at U Street-Cardozo Station and Fort Totten Station.
The lower platform of the Fort Totten Station is unique in the WMATA system, in that it is partly in subway and partly on the surface. The line comes out the side of a hill here, and the tunnel portal is about mid-way on the platform.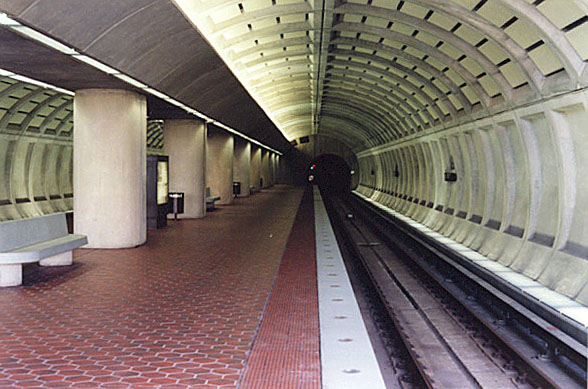 Above, subway portion of lower platform, looking south toward the downtown.
Above, surface portion of the lower platform, looking south into tunnel portal. My photo belies the true contrast here, since the outside area looks too bright, and the tunnel part of the station looks too dark, since in reality the interior looks well-illuminated from this vantage point.
Above, surface portion of the lower platform station, looking north toward Greenbelt. My photo belies the true contrast here, since in order to get the true image of the station area, I had to over-expose the area outside the station to the left of the photo.

All photos © Copyright January 2001 by Scott Kozel. All rights reserved.

My lead page for

Metrorail Mid-City Line Opening.

By Scott M. Kozel,

Roads to the Future

(Created 1-14-01 2:35 PM; counter 42,699)