Naylor Road Station

The

Naylor Road Station is on Naylor Road, in Maryland less than 1/4 mile from D.C., just south of the intersection of Branch Avenue and Suitland Parkway. There are entrances to the station from Naylor Road (for parking) and from Branch Avenue (for buses and Kiss & Ride). The Naylor Road station is aerial and is on a 3,850-foot-long length of aerial structure that passes over a slight valley with portions of Oxon Run Park and the Suitland Parkway. See WMATA news report Naylor Road station wins design award: "The Naylor Road station makes its public debut next year and it's already making headlines in the transit industry. The Portland Cement Association (PCA) has just selected the Green Line Aerial Structure at the Naylor Road station as the winner of its 2000 Concrete in Transit Award. The honor recognizes excellence in design and construction of transit projects that exemplify the use of concrete".

Incidentally, during the initial planning and design of the WMATA system in the 1960s and 1970s, the planners decided to use the word 'aerial' instead of 'elevated', for the specific reason that they did not want the public to associate the proposed aesthetically designed modern concrete structures, with the old fashioned "El" structures in New York City, Philadelphia and Chicago. So, the reason was for marketing.

The Naylor Road Station was built with parking lots for 400 long-term parking spaces, a lot for 64 short-term Kiss-and-Ride spaces, and with 8 bus bays. (Source: "Green Line to Branch Ave Grand Opening", brochure handout by WMATA).

I didn't (yet) take photos of the station proper, but these photos are taken from the east end of the platform looking east at the aerial structure.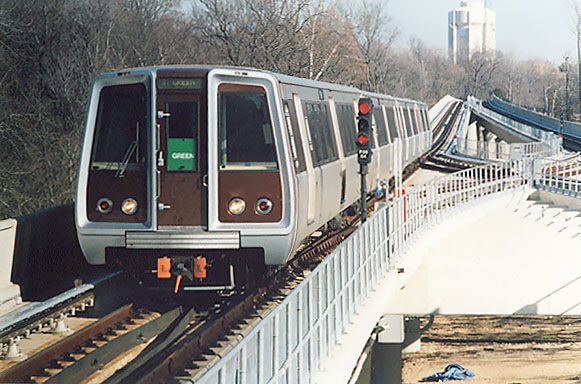 Above, viaduct at Naylor Road Station.
Above, viaduct at Naylor Road Station. Notice the interlocking facility (crossover junction).

All photos © Copyright January 2001 by Scott Kozel. All rights reserved.

Lead article for

Metrorail Branch Avenue Route Completion.

By Scott M. Kozel,

Roads to the Future

(Created 1-23-01 9:45 PM; counter 43,348)