Easily the most spectacular highway for scenery I saw in the Los Angeles area was the Pacific Coast Highway. It is CA-1 from Santa Monica to Oxnard, and the coast is hilly to mountainous with small beaches in various places. The beach at Malibu near Sunset Blvd. is a large wide beach. I've spent a lot of time around Atlantic coast beaches, and the land is pretty flat there. The Pacific coast in California is much different with its hilly to mountainous terrain. VERY spectacular, and I shot a bunch of photos, and rode it in both directions from Santa Monica to Oxnard.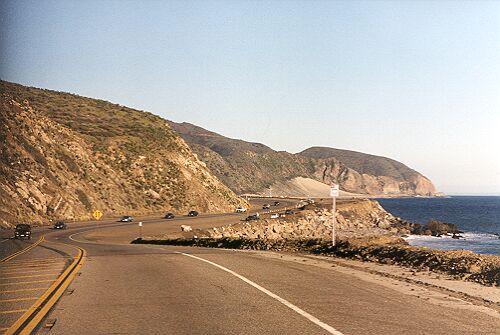 Eastbound, east of Oxnard.

Eastbound, east of Oxnard.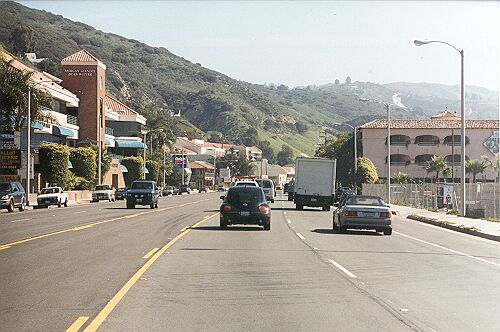 Eastbound, town of Malibu.

Westbound, west of town of Malibu.

Looking west from hill near Santa Monica. Sunset Boulevard junctions the Pacific Coast Highway and runs perpendicular to the coast through the valley in the lower part of the photo.
Photos by Scott Kozel.
Copyright © 2000 by Scott Kozel. All rights reserved. Reproduction, reuse, or distribution without permission is prohibited.
By Scott M. Kozel, Roads to the Future
(Created 3-31-2000)