This map shows the proposed I-70 in West Baltimore as of 1970, with the alignment through Leakin Park and Gwynns Falls Park.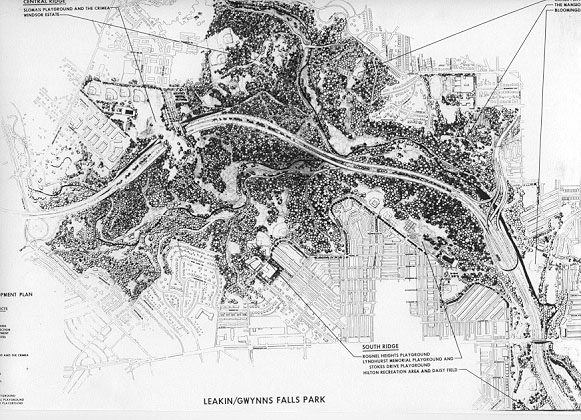 Source: Final Joint Development, Baltimore Interstate Highway System 3-A, by Urban Design Concept Associates (a joint corporate venture of Skidmore, Owings & Merrill; J.E. Greiner Company, Inc., Parsons, Brinckerhoff, Quade & Douglas; Wilber Smith & Associates), December 1970. This document was prepared for the Interstate Division for Baltimore City (a joint city/state agency) on behalf of the City of Baltimore and the State Roads Commission of Maryland in cooperation with the United States Department of Transportation, Federal Highway Administration.
Click for larger map images: Regular (202 KB), Medium (585 KB), Large (724 KB), Extra Large (1,655 KB).
Lead article for Baltimore Early Expressway Planning
Copyright © 2001-2007 by Scott Kozel. All rights reserved. Reproduction, reuse, or distribution without permission is prohibited.
By Scott M. Kozel, Roads to the Future
(Created 2-3-2001; last updated 5-5-2007)