Greenbelt Station Photos 1 thru 3

The

Greenbelt Station is the terminal station of the Greenbelt Route (E Route) and Green Line Trains. The station is a surface station with large park-and-ride lots and adjacent interface with MARC commuter rail. The Greenbelt Route opened from Fort Totten to Greenbelt on December 11, 1993, "Metrorail begins service on 7.96-mile Green Line segment that includes West Hyattsville, Prince George's Plaza, College Park-U of Maryland and Greenbelt stations. It connects with Red Line at Fort Totten. This completes 89.5 miles of the 103-mile system".
Above, from platform looking north. Railroad tracks at left edge of photo are the CSXT mainline (old B&O Railroad) that carries freights and MARC.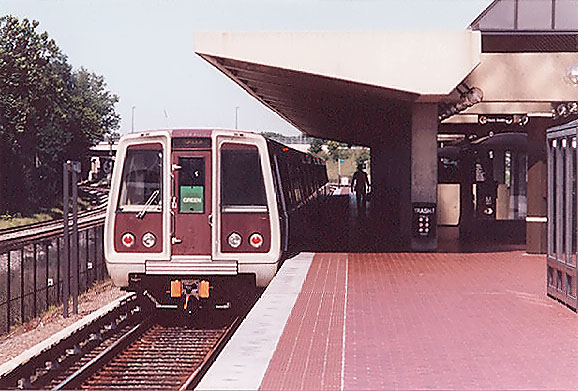 Above, same shot as previous, but with 135mm telephoto instead of 50mm regular lens.
Above, from platform looking north.
Greenbelt Station Photos 4 thru 6
All photos on this page taken September 1999.
All photos © Copyright January 2001 by Scott Kozel. All rights reserved.
Lead page for
Washington Metrorail Photos
By Scott M. Kozel,
Roads to the Future