Route 895 Construction - April 2001
Here's more photos of Route 895 under construction, taken April 2, 2001.
Above, west abutment and west approach to the Route 895 James River Bridge. Notice that the eastbound approach span superstructure has been built. Roadway at bottom is the temporary roadway for southbound VA-150 Chippenham Parkway.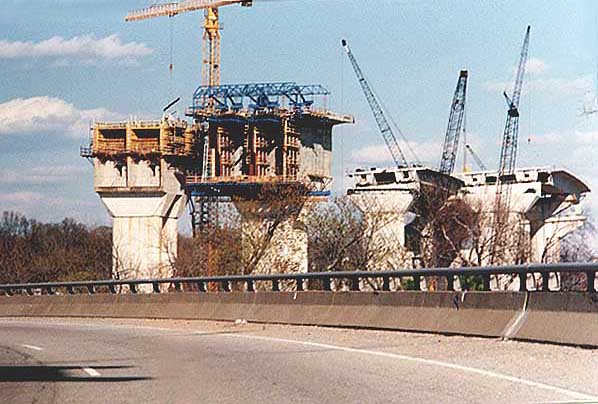 Above, vantage point is from the ramp from VA-150 Chippenham Parkway to I-95 northbound, looking eastward toward construction of main span of Route 895 James River Bridge.
Above, looking at the beginning of construction of the main span of the Route 895 James River Bridge, being built by the cast-in-place balanced cantilever method. Taken looking northward from ramp from I-95 northbound to Chippenham Parkway westbound.
Above, Ramp H, which is the ramp from Route 895 westbound to I-95 northbound. Looking north. The ramp begins on the main span of the Route 895 James River Bridge.

© Copyright 2001 by Scott Kozel, and all photos taken by same. All rights reserved.

Lead page for

Route 895 Construction
Lead page for Route 895 Connector

By Scott M. Kozel,

Roads to the Future

(Created 5-19-01 1:00 AM)